HIGHLIGHTS
Top Distributors 2006
Peter's Design Guide
Delta Live Online Training
RMC150E CPU
Nachtwey will Present at FP&E
Delta Website Updates
Motion control training in classroom or internet
Latest software updates
MetalForm
AISTech
FP&E
FABTECH International & AWS Welding Show
View previous issued newsletters
MARCH 2007
NEWS


Top Regional Distributors for 2006
Delta announces top Regional Distributors for 2006:
Carolina Fluid Components, LLC -
Mid Atlantic and Southeast Region

J.M. Grimstad, Inc. - Central Region

MSK Corporation - Korea

Oilquip, Inc. - Southwest Region

PQ Systems - Western Canada

S.G. Morris Company - Northeast Region
____________________
Peter's Design Guide
Fluid Power Motion Control - A Guide to Practical Design.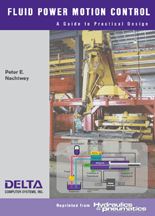 Get your free copy by sending us your contact information.
____________________
Delta Live Online Training
Delta provides training via internet for both the RMC70 and RMC100, scheduled monthly.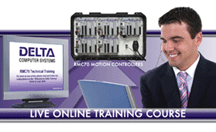 VIEW DETAILS for training
View press release for the Live Online training
____________________
Coming Soon...RMC150E CPU for RMC100 Motion Controllers
Delta will soon begin pre release, Beta Testing on the new RMC150E CPU. This product innovation is for the RMC100 Series multi-axis controller and will use RMCTools software. Look for a more detailed press release on the distributor only website in late March.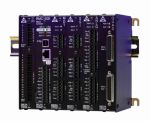 ____________________
Peter Nachtwey will Present at FP&E in June
Peter will be presenting at the Forest Products Machinery and Expo Conference in June on "Advanced Motion Control in Forest Products Applications." MORE INFO
____________________
Delta Website Updates
Check out the following updates to Delta's website:
2007 TECHNICAL TRAINING


RMC Motion Controller Training
Delta offers numerous training sessions for RMC motion controllers across the country and over the internet. Sign up for classroom training or Live Online training. SIGN UP

SOFTWARE DOWNLOADS


RMC Software Updates
Download the latest RMC Software updates including RMCLink.
2007 TRADE SHOWS


During 2007, Delta will exhibit at:
____________________

Donald E. Stephens Convention Center - Rosemont, IL
March 25-28, 2007
Booth 1942
____________________

Indiana Convention Center - Indianapolis, IN
May 7-10, 2007
Booth 1118 - Delta is exhibiting in the Hartsock Industrial Booth
____________________

Georgia World Congress Center - Atlanta, GA
June 21-23, 2007
Booth 1513
____________________

FABTECH International & AWS Welding Show
McCormick Place - Chicago, IL
November 11-14, 2007
Booth 7143