Delta announces distribution in New Zealand, India and Hong Kong
Delta has joined NAM, National Association of Manufacturers


New release!
VC2124
New release!
RMC100 Tuning Wizard


Delta Computer
Systems, Inc.
11719 NE 95th St.,
Suite D
Vancouver, WA
98682-2444
Phone:
360.254.8688
Fax:
360.254.5435


Your privacy is important to Delta. Delta does not make its email or mailing list available for outside distribution. You can opt-out at any time.

Copyright ©

2005
Delta Computer Systems, Inc. All rights reserved.


Delta will exhibit at three trade shows in March --National Manufacturing Week, IFPE, and Metal Form 2005
Delta President, Peter Nachtwey presents two technical conferences in March
- Dynamic Response of Fluid Power Motion Control at the IPFE Technical Conference

- Hydraulic Closed Loop Motion control for Presses at the Metal Form 2005 Technical Conference
Delta to launch RMC70 Rotary SSI in Q1
Distributor Only Information Follows

Delta announces distribution in New Zealand, India and Hong Kong

As part of our increasing international customer base, Delta is pleased to announce new and/or continuing relationships in 2005 with Engineering Computer Services in the South Pacific, Servo Controls India in India & Pakistan, and Servotech in some other Asian countries.

For a complete distribution list go to http://www.deltamotion.com/company/dist.php
Delta has joined NAM, National
Association of Manufacturers
Delta has joined the NAM because it believes in the NAM theme that Manufacturing Makes America Strong and the goal of uniting American Industry to face the challenges of American manufacturing today and in the future.
Product News
RMC70 Series datasheet information was updated in mid January, so please update your literature from the Disty only page and update your RMCTools software from the deltamotion products page.
Delta launches RMC70 Rotary SSI
Delta

will

release RMC70 Rotary SSI

in Q1

. An update of RMCTools software should be available with on line help additions in

mid

March.
Delta increases advertising for 2005
In 2005 Delta will continue advertisements and application articles in industrial publications like Hydraulics and Pneumatics magazine. Delta ads will be in H&P in February and March along with articles. Quotes in H&P and MetalForming magazine on Press Automation and H&P quotes relative to the future of Hydraulics.
Reminder
Call your Regional Sales Manager for any questions you may have.
Thank you,

Bill Savela P.E.
Motion Products Marketing Manager


March 7-10, 2005
Chicago, IL
McCormick Place
Booth 2222
Serv-Con Systems presents Delta

IFPE 2005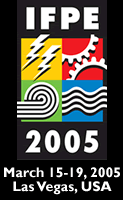 March 15-19, 2005
Las Vegas, NV
Booth S-15420


Metal Form 2005





March 20-23, 2005
Rosemount, IL
Donald Stephens Convention Center
Booth 2020



Subscribe here
Please send me this complimentary newsletter.
Remove
Please remove me from your newsletter mailing list.